Director & CEO / Alabama State Port Authority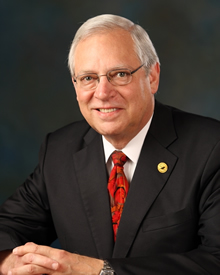 James K. Lyons has served as Director/CEO of the Alabama State Port Authority since July 1, 1999. Mr. Lyons' over 40 year professional maritime industry career has encompassed marketing, financial management, transportation, stevedoring and terminal operations.
Since joining the Authority, Mr. Lyons has overseen construction of new facilities and upgrades to railroad, pier infrastructure, and equipment. Mr. Lyons manages an organization of 587 employees, with fiscal year 2014 revenues of over $160 million and handling more than 29 million tons of cargo. Mr. Lyons oversees the Authority's capital programs to expand or enhance the public terminals to serve shippers. The current campaign includes equipment upgrades at McDuffie Terminal to handle an expanding export coal market, the construction and development of an Intermodal Container Handling Facility and Logistics Park, and a new state of the art steel handling facility. These and other port-wide improvements total nearly $100 million in new investment.
Mr. Lyons is actively involved with many professional and maritime organizations. He currently serves on the Board of Directors for the Birmingham Branch of the Federal Reserve Bank of Atlanta, and serves on the Boards of Directors for the United Way of South Alabama and the Mobile Bay National Estuary Program. Mr. Lyons is also the Vice Chair of the Alabama Gulf Coast Recovery Council. Mr. Lyons holds a Bachelor of Arts degree in Political Science and Economics from the University of Alabama and completed the Executive Management Program at the University of Tennessee in Knoxville.

He is married to Beth Marietta Lyons, a local attorney, and they have one son, Patrick.