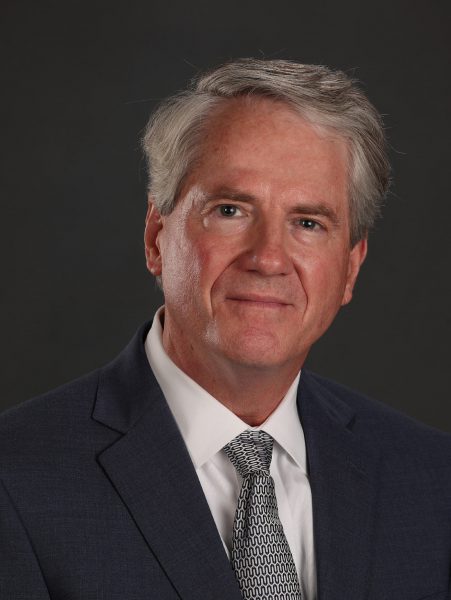 Finis E. St. John IV is Chancellor of The University of Alabama System (www.uasystem.edu). In that capacity, he is chief executive officer of Alabama's largest higher education enterprise, which is comprised of three doctoral research universities and the UAB Health System.
Total enrollment at The University of Alabama, The University of Alabama at Birmingham and The University of Alabama in Huntsville exceeds 70,000 students with more than 30,000 full- and part-time faculty and staff. The annual economic impact of the UA System surpasses $10 billion annually, and more than 1.7 million patients are served annually in the System's hospitals and clinics.
Chancellor St. John earned his undergraduate degree at The University of Alabama, where he graduated cum laude and was inducted into Phi Beta Kappa and Omicron Delta Kappa. A member of the University of Virginia School of Law Class of 1982, he chaired the Moot Court Board. Chancellor St. John clerked for the Hon. Peter T. Fay, 11th Circuit U.S. Court of Appeals, after completing law School.
During his 17-year tenure on the Board of Trustees of the UA System, Fess St. John chaired numerous standing committees and played a key role in the recruitment of senior campus leadership. He was unanimously elected to three successive terms as President pro tempore (2008-2011) of the Board and was directly involved in managing more than 450 capital projects exceeding $3 billion on the campuses. In July 2018 he was asked by the Board to serve as interim Chancellor. In April 2019 the Board elected him to the permanent Chancellor position.
Chancellor St. John has a deep understanding of the essential value of rigorous, high-demand degree programs that prepare students for success in life, and has extensive experience in helping guide health care policies. He served for more than 10 years on the UAB Health System Board of Directors.
In describing his role, the Chancellor explains: "Our job is to lead like-minded people to benefit the future of both the UA System and the State of Alabama. We don't look at the System as isolated, but in participation with the state. All three universities are doing well and growing. Each has its own strengths."
A lifelong resident of Cullman and a member of one of Alabama's oldest law firms, St. John & St. John, L.L.C, which was founded in 1892, Fess St. John's family has a long and distinguished history of service. His father, grandfather and great-grandfather served in the Alabama Legislature; his mother was the first female attorney in Cullman; and his great-great grandfather, who arrived in Alabama in 1838 and was elected to the Alabama General Assembly, was instrumental in creating our state's first public education system.
Fess St. John's wife, Gaynor, has been a partner at St. John & St. John for more than 25 years. His sons Finis and Jack are attorneys and he is the proud grandfather of Mary Juliet and Jack, Jr.